A Nutritionist's Grocery Shopping Advice during the Pandemic.
A Nutritionist to your rescue
blog
A Nutritionist's Grocery Shopping Advice during the Pandemic
A Nutritionist to your rescue
We are living through a pandemic that continues to impact our day to day lives. Grocery shopping is one of those basic things many of us must leave our house for. As this pandemic continues to spread, people all over the world are stocking up on grocery items and food in expectation of staying at home for the long time. But people face so many difficulties on what to add in their
healthy food
shopping list and what to avoid when stocking up on Groceries for Quarantine.
Questions arise in their minds like, Can I get COVID-19 from eating fresh food? What are foods to avoid during the COVID-19 pandemic? Can people in quarantine eat fried foods? Is it safe to go to grocery stores and other food markets during COVID-19?
First of all, try to avoid panic-buying. Do not to rush and stockpile. The main aim is to be prepared and purchase gradually. It's crucial to consider all of the food groups and components that you need to build balanced meals. Here is your nutritionist shopping list next time you need to stock up.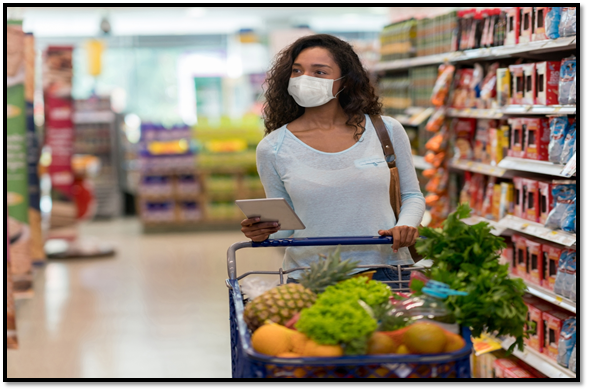 • You can and should buy fresh fruits and vegetables with a longer shelf life. Fruits and vegetables that increase immunity are specially rich in anti-oxidants like all types of berries, specially amla, citrus fruits, veggies like carrots, beets, sweet potato, spinach leaves etc. Other important thing is anti-angiogenic foods like organic vegetables, fresh and seasonal fruits, turmeric etc contribute to regeneration of cells in our body and provide the needed immunity for overall strength.
• Immune boosters are present in our kitchen. Please include more of fresh spices like garlic, cumin, onion, cardamom, coriander , clove, black salt, garam masala powder, Honey, lemon etc in your grocery list. Let the traditional spices be part of the intake.
• For dairy, Curd has good bacteria to maintain the gut microbes and gut health. Yogurts, non-refrigerated milk, plant-based beverages can last a couple of weeks, too.
• There are so many great pantry items to keep our immune system strong. So, make sure that you eat the recommended portions of different varieties of whole grams, nuts, seeds, whole grain cereals.
• No-sugar added oatmeal is also a great idea for breakfast or snacks. Whole-grains and low-sugar cereals make breakfast and snacks easy and can be a nutritious option too.
• If you are a coffee drinker, there is a good chance you will want an energy boost. But if you are not then gravitating towards tea, make sure you add ginger and turmeric as they are immune-supportive.
• No matter what tea you choose adding honey is also a great idea.
• Frozen fruits and vegetables are just as nutritious as fresh because they are picked and frozen at the peak of freshness and will last months.
• Grab sprouted grains that packs in more protein, fiber, and potentially better-absorbed nutrients.
Just check the ingredient lists to ensure you are getting whole grains, some vegetables & fruits, and no artificial additives. Hope this guide helps to improve eating style, nutritional status and thus a good immune system, ready to keep any disease at bay.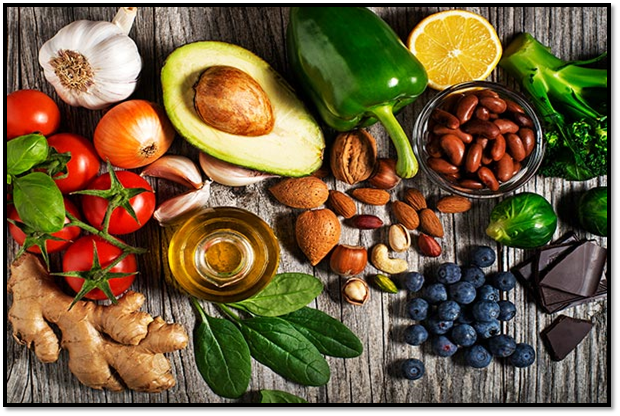 And avoid these foods.
Avoid canned items, sugar, processed or packaged foods, artificial cold drinks and energy drinks as there are claims that they boost immune health, but that is too good to be true. Also say no to street food, oily and junk food, raw egg, and non-vegetarian items like red meat.
Now Tips for Safe Grocery Shopping
Maintaining good hygiene, sanitation, wearing a mask and following the physical distancing when you go out are the preventive aspects to be remembered as part of self protection against COVID 19. In addition, here is your guide to find out how to shop safely to protect yourself.
Consider Grocery Delivery or Pickup
Grocery delivery or pickup services are beneficial for high-risk people, especially elderly and those with chronic health diseases. You can also avoid contact with delivery person by making him leave your groceries at your doorsteps.
Take Advantage of Sanitizing Stations
Almost all the food stores have enhanced their cleaning and disinfecting practices for frequently touched surfaces such as refrigerator doors, grocery carts and basket handles, and they also have free disinfectant wipes for people to use when entering and leaving. Make sure to sanitize your hands and basket handle before and after shopping. Many stores have also started outlying spots to stand in the checkout lines too for social distancing.
Shop During Low-Traffic Hours
Go in the last hour, as there are likely to be fewer people around then, particularly if it is dark. You can best protect yourself and others by shopping as seldom as possible - plan and make a list to minimize your time in the store. It would also be a good idea calling your local grocery store and asking them when the good time is to come.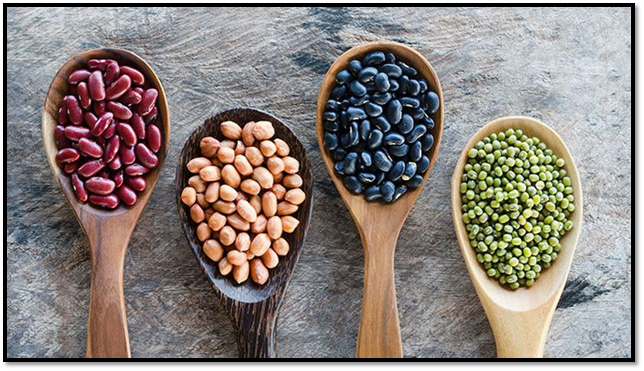 Put it on well before you reach the store, so you do not break the protection by making adjustments in the shared space while touching other items.
Pay with a Credit or Debit Card
It is worth taking the extra precaution to pay with a card over cash. Eliminating the need to exchange currency notes allows you to keep the distance and limit the spread of virus.
Make sure you disinfect frequently touched areas in your house. After you come home from the store and put your groceries away it is a good idea to disinfect your fridge handle and wash your hands.
Do your best to maintain social distancing as you shop (at least 3 feet from others) and stay home if you are feeling sick.
---